Current Location:
dinning room table
Current Mood:
accomplished
Current Music:
Radioactive by Imagine Dragon
We just had Regional A&S here in our Barony. For the non-Scadian - think of it as Science Fair. Each state in our kingdom (IL, IN, OH, MI) runs an art/science competition and the best in the region (state) goes on to compete at the Kingdom level at Crown Tourney (an event that happens every spring/fall). It was sorta a last minute kind of event and one that our Baroness wasn't totally unhappy to have to host it. We're far from the unofficial capital and so any event held out this way gets very little attention and we don't often get the "important" events. Moderate turn out for a fringe territory with no royals attending (royals = rock stars who bring in the crowds), but it was a very nice event. I had been asked by our most gracious Baroness to teach and so I sketched out three classes and then turned to the Regional A&S Officer (who's in charge of running these kind of events) to inform him. However, he said don't teach, since I'm Baronial A&S officer, I needed to be his minion/deputy for the event. Oh, okay.

Oops, didn't realize that our Baroness wasn't cc'ed to that letter. A week before the event, people started telling me that they might be running late but they really wanted to take my class.

Class? What class? I wasn't teaching a class. According to the website I was. Craptastic. Good thing an enthusiastic student of mine informed me of this or else I would have been poleaxed the day of, scrambling to remember how to do a bunch of stitches. Informed the Regional duded of the mix up and he released me for the day.

Now, I joke often about everyone thinking I'm some sort of embroidery rock star for what - in my opinion - is more about project scope than serious skill. I mean, after over five years of work its still the same four stitches with hard to quantify improvement. Not like I started with wool on linen and now doing gold on velvet. I am mystified by the enthusiasm even as I welcome it. Embroidery hereabouts is unusual. In fact, I'm always surprised when I hear about an Embroidery Laurel in Kingdom because they are so few. In fact, I've been looking for other embroiderers for years (to start an actual Embroidery Guild) and I just get a lot of passive "Why make a separate guild, there are embroiders in the Withies". I do not considered the all-inclusive anything remotely considered textile arts (including basket weaving and leather braiding) Withie and Woolmonger guild as an acceptable stand-in for "embroidery guild". Specialization is the key, not some sort of loose autonomous collective.

There were so few embroidery peeps in kingdom that when this lady popped up out of nowhere, doing the most admired and difficult Or Nue embroidery, all I could think of is "Where the fuck have you been the last few years?" Seriously - she's good - http://cerridwencreations.weebly.com/or-nue.html

Of course, nowhere near me, making her a not-good target for Guild Founding. For now.

So, with this amused mystification in mind - I rather expected that Brigid and maybe Asa to be my only students. Perhaps one other who was looking for something to do between other classes or judging. I expected one of the harsh and sparse church-basement classrooms for this and was rather surprised to find my class room assignment to be the church lounge -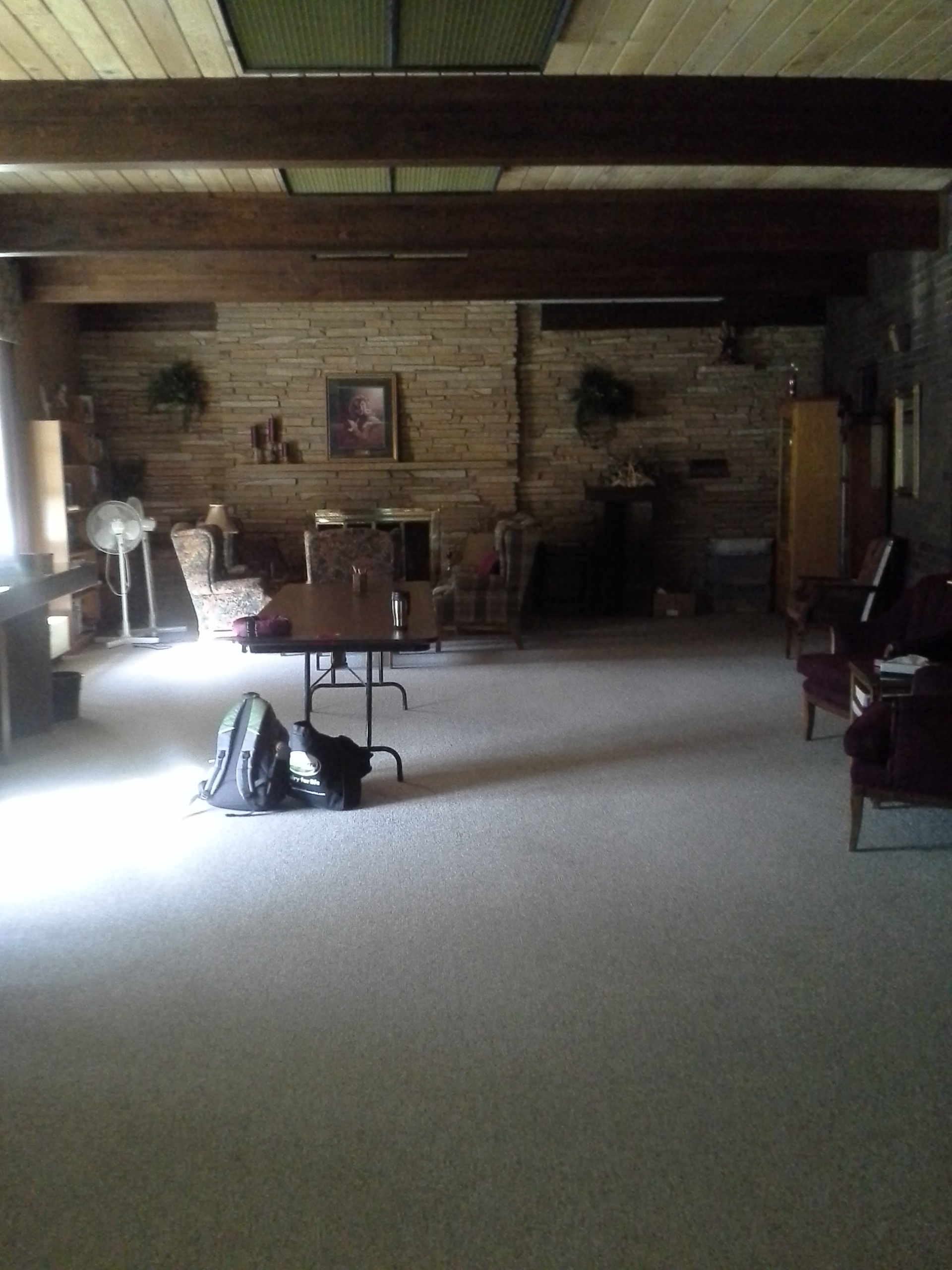 This was not what I expected. There was a tiny kitchen off to the side and I idly wondered if I left a fiver on the counter as a donation to the good reverends (fathers?) if they would mind over much if I helped myself and my students to a pot of coffee. I felt like maybe I needed to have a platter of cheese and other snackables for anyone who might show. Poshy digs like this are normally reserved for royalty rooms. I probably rated only because there was no royalty, but the fact I rated at all was rather flattering. I had plenty of room for myself and my anticipated two students. ;)

But I got way more than two students. Henry came by to sit and stitch - he already had project to work on and not necessarily interested in learning a variety of late period stitches. I got a Kingdom A&S deputy from Northshield (WI, MN, SD, ND, and some Canada to the Arctic) who wanted to pick the brains of the A&S culture here in Kingdom (as they apparently don't have any A&S stuff going on at all!). I got a Chicago fighter girl. I got....seven new people. Five of them were in garb. Three of the girls in the trashy Ren Faire stuff that so many of us wear to our first events before we start getting serious about our clothes. ;)

So I taught knots for an hour and and a half, a couple different detached stitches for another hour and half. I did an introduction to German Brick Stitch for another hour and a half. My knot class got the most students and as the day progressed I had fewer and fewer. I suspect that it was information overload on a few of them, they just could not learn any new tricks. I had a lady come in after her Mongolian entry was judged because she wanted to learn knots. The detached stitches are for late period work (stumpwork mostly) and she's so not late period or European in her persona. But she was pleased to learn the Chinese knot as that would be useful to her should she plan on going that route with any future art. It cracks me up sometimes on how many requests I get for late period stitches and getting started on stumpwork. Mostly because there is nothing about my tapestry that suggests either time period/art form so I don't know why they'd think I was a resource for such things. It also cracks me up as most of these ladies were introduced to embroidery by yours truly and want to make the jump from learning the three most basic stitches to crafting three dimensional Elizabethan work.

I'm the last person in the Society that can counsel "why not pick a small project to start off with?", so when they want help picking out fabric and thread and tell me they want to make something based on the Plimoth Jacket (http://www.stitchingforliteracy.com/the-plimoth-jacket/) I meet them down at the snooty thread store to give them some advice, introduce them to the snooty coffee house across the street, and start brushing up on my Corded Detached Buttonhole stitch.

Predictably, a number of people want to know the "period-ness" of any stitch I might teach. Did the French Knot really start in France and what era can it be dated back to? These answers I don't have. I can tell you that they were found and used in the time period we cover, but not much more than that. For all I know, French Knots actually started in Poland and came to France when some unremembered king married some Polish princess and became all.the.rage. I'm a hands on type of embroiderer - I have no hand outs to give at the end of class. No diagrams or bibliography to reference. I have no documentation as to each specific stitch and on what 14th century chausible it was found on. I don't know if people want or need that. There seem to be plenty of classes on that - as research types show a piece they finished and talk about all the research it took to re-create it, but never how. I keep taking them, disappointed that they didn't show how they worked with the silk or how they couched the gold. Something as important on how you cut and applique embroidered slips. No one shows how tension was kept even, the reverse of the work, how you start, how you even frame up on a simple plastic hoop gotten from Joann's. That's great you have a five page paper on all the period examples that look just like the one you made, but...well...I would think a class on "this is how you do" rather than "look what I did" to be more helpful for the interested audience.

I can't prove I ever taught classes - I have no class list to put up on webpages to be re-read or downloaded. I find myself not caring so much. I just want to get people started and hopefully get a local group of embroiderers for that proto-guild. I have big projects planned that would be so much easier with sweatshop work a few weekends rather than just myself for a few years.